While we were sitting around talking, N told us that she had inherited a frozen turkey from our friend S when he moved to Chicago. Setting aside the bogglement that S had bought a large frozen turkey, presumably a year in advance, N explained that she didn't really have space to keep it, and would we be interested in having a Thanksgiving dinner, preferably tomorrow or Sunday, since she was thawing the turkey? The response was a resounding, if moderately flabbergasted, yes.

So a bunch of people I know from various activities (as well as people I hadn't yet met) showed up at N's house with Thanksgiving-y side dishes last night, and it was delicious. After that we watched "Strictly Ballroom," since the swing dancers had been discussing dance movies earlier. Then of course, we all felt like dancing, but it was late, so that will just have wait.
I go swing dancing on Friday nights with the university club, and it's fantastic. Consequently I usually end up staying up past my bedtime, given that my summer schedule means that I have to work Saturday mornings. But those members of the club who stay 'til the end of the night (around 11pm) usually go out to get something to eat after dancing. This week it was frozen yogurt.


Ca: Sarah, while you were away your phone rang. I mean, I think it was yours. It sounded like a real phone!
me: Yep, that's mine.

at small group-
phone: *ring!*
me: Oh, sorry!
Chris: Your phone actually rings?!?
me: *grin*
My mobile phone is set to a tone that sounds like a telephone bell ringing. Thus,
Current Mood:

calm
The Secret of Kells, and I'm sure this will come as a great shock, but it is now one of my new favorite movies.



Special Collections has a gorgeous facsimile of the Book of Kells, it's full size and has everything reproduced, including the holes where moths ate through the membrane.

Next semester I'll probably get to go back to spending half of my time Special Collections - I only got to go in a few times this term for tangential research and the librarians say they miss me.
♥


Now that everything is turned in and I finished helping Dr. J grade finals, I'm going to sit down and paint before I head home.
I finally got around to seeing

Consequently:

phone: Hello, you've reached the mailbox of...
me: Hmmmmm.
text: Ethan! Call meeeee!!! Re: secret Christmas things and plots for world domination.
Shortly-
phone: ring ring!
Ethan: You had me at world domination.

In other news: Advent started today! That means more candles and Christmas carols in church!
I'm coordinating Christmas presents for my parents with my brother and his girlfriend.


Me: Hi Dad, I'm in Target.
Dad: You called Mom's phone first! Why don't you ever call me first?
Me: I thought Mom would know the answer to my question. I'll call you first next time, how's that?
Dad: I bet that I know the answer to your question!
Me: Okay, look I need a pencil case because I bought a new backpack and I don't like the pencil cases in Target. Where should I go to get one?
Dad: JAPAN! They make the best pencil cases!
Me: ...Actually, I think you're right...
Dad: Did I tell you that Mom's getting a Kindle?
Me: But I'm not in Japan! Where should I go look?
Dad: You should steal one from one of your Japanese friends.
Me: I don't have any!
Dad: WHY NOT.
Me: Because there aren't any in the art history grad student contingent right now! And I'm not working with internationals!
Mom, yelling in the background: You should go to Office Depot! They have school supplies on sale now!
Dad: She says to go to Office Depot.
Me: I heard.
Dad: You can get a temporary pencil case from Office Depot. I'll bring you a REAL one back from Japan! But it'll probably have Hello Kitties on it.
Me: Well I would hope so!
Dad: Mom is really into Hello Kitties right now.
Me: You are such a liar.
Dad: (to my mother) We should get you a case for your Kindle in Japan too! Actually, maybe we should get you a Kindle-type thing there instead of here.
Mom, yelling in the background: No, we wanted to put guidebooks on it, remember?
Me: So, I'm going to hang up and go to Office Depot now, okay?
Dad: Okay, but I'll find you a better pencil case in Japan!
Me: I know.
Dad: Do you want a pencil box, or a soft case?
Me: Well, I was looking for a soft one, but I'll leave it up to you.
Dad: Okay, but that's the only thing I'm bringing back for you.
Me: Whatever. Last week we decided that you were just going to give me things that your students had already given to you and then tell me that you'd gotten them for me. Remember?
Dad: Hahahaha!

And then I related that story to my brother later.

Brother: Actually, I think I agree with him.
Me: I know, right? I'm curious to see what he brings back.
For this to make sense, it would be helpful to remember that my father works with international students, and that he and my mother will be going to various countries in Asia in a few months. He's going to be part of a wedding in Hong Kong for two of his old students, and then they're going to visit lots of other people.
In the meantime, I think I need to go to the beach once more before classes start, providing that it's still oil-free. I'll have to look into that.
On to vacation!
My father works with international students at the university. Basically, he does what the University wishes it could do, but hasn't got time or money for, consequently everyone loves him. He organizes conversation partners, English classes and culture classes, and lots of social events for the international students. During the first week of classes he organizes a tour around town: volunteers drive carloads of students along a path that my dad has organized, and tell them about the city. The tour ends on campus where there is a free-garage-sale-furniture-etc-giveaway.
People donate all sorts of things that students need, which then get set up in a parking lot on campus, and then given away.
This means that there is a lot of furniture-moving going on in the weeks beforehand. Which is what I got to do frequently over my break, including the morning of my first day home. Also, one of my dad's interns moved, so we helped out with that too.
My father also likes to make grandiose proclamations about how my brother and I will be inheriting. Who inherits depends on his mood: sometimes it's me, because I am the eldest, sometimes it's my brother, because he's the son. Currently it's me, at least as of last week. A few years ago my brother and I pointed out to our dad that there really isn't that much to inherit. He was momentarily fazed, but got over it.
So I informed my brother that I'm inheriting again, and then my parents actually decided that they need to update their will. I guess my brother and I are still being left to our maternal grandparents, who are dead, and we're too old for guardians now anyway.
This decision was precipitated by the fact that my parents are going to Asia this fall to visit some of my dad's old students. I believe the plan is to visit China (Beijing and Shanghai, and possibly other cities), Hong Kong, Taiwan, (South) Korea, and possibly Japan. I'm envious. My father is apprehensive.
He doesn't really like to travel, neither does my brother, but my mother and I love it. Dad had to be bullied into
visiting Italy with me
, but ended up really loving Florence. While at home this time, my mother came across a scarf that I'd brought with me - I usually wear it or something like it into church because services are always soooo cold during the summer, with all the air-conditioning.
Mom:
This is pretty! Where's it from?
me:
Florence - we got it from the same place where we bought your scarf.
Dad:
Yes! WE'VE been to ITALY.
Mom:
I KNOW. When are you taking me?
Dad:
But! I'm taking you to Asia!
Mom:
HM.
In random news, my dad, who, by the way, is ordained as a pastor, and is an elder at church, sporadically likes to talk about his past lives. (Not that he actually believes in reincarnation...) This time around he saw an advert for Shark Week and decided that he'd been a shark in one of his previous lives. His usual favorite past life is when he was the Mother Superior from
Sound of Music
, and sang "Climb Every Mountain." He also asked me to be on the lookout for his past lives from the Middle Ages as I look through medieval manuscripts and literature.
I learned that my mother is against mixing battery brands. Dad apparently wanted to just put two random batteries into a light that he'd bought for one of his interns, but my mother said he couldn't.
Dad:
But they're both batteries! Same voltage!
Mom:
I don't care! It doesn't work! I don't like it! Just use two from that new package you bought!
I don't know if I've mentioned it, but I have a serious tea collection. It's getting a bit out of hand. I had to re-organize that part of the pantry when I got home. But my parents have an even larger tea collection, because my dad's students like to bring him tea from their provinces and so on. Also: really pretty teacups and teapots.
One of them, a yellow teapot, gets used a lot. My dad had a bunch of students over for a breakfast-and-lunch-planning session; I sat in for the meal parts, during which the yellow teapot was being used. It has four circles on the sides, with Chinese characters in them, and I wanted to know what they meant, and realized that this would be a perfect time to find out. According to one of the girls, the characters mean "10,000," "life," "happiness," and "none," which translates to a message along the lines of wishing you eternal life, and is one of the standard phrases used when addressing the emperor or your elders. (Something like "May you have life and happiness without end").
On the way back to Florida, I called my parents when I'd stop to take breaks. At one point my mother told me about the latest gift that they'd recieved:
Mom:
Guess what we were given? More tea! We didn't have enough already!
She didn't say what type it was. Hopefully more jasmine; that's one of my favorites.
My trip to visit my parents went great, and now I'm back in Florida, where I am supposed to be studying German. I really will study tomorrow. My independent study work is all turned in, and I should be meeting with my adviser to discuss dissertation topics sometime in the next few weeks.
Apparently my brother disagrees. (Although he probably agrees with me about Russia).
brother:
I have reached the four-minion level! So... much... power!!1!
me:
Haha, next up... THE WORLD!! (cue evil laugh).
brother:
MmmmWAHAhahahaha, HAHAhahahaaaaa
me:
You know, if you turned evil I would feel really conflicted because I would feel duty-bound to oppose. But... It's you, so yeah...
brother:
Heh, well the world can hope that I don't acquire super powers, since we know which way I would go.
me:
Aw MAN... You make my sisterly job and attempt at being a force for good in the world so hard!!! Also, it may be a good thing that you didn't go through with the poli-sci major...
brother:
Yes. I would not have broken the law, but I would have bent it so far that you'd need to check its dental records.
me:
SIGH.
(Hahaha! He's a graphic designer).
mood:

mild consternation,

bordering on dispproval
When I taught high school history, I tried to make sure that my students were absolutely clear on one topic (amongst many): trying to take over the world is a really bad idea, especially if it involves invading Russia in the process.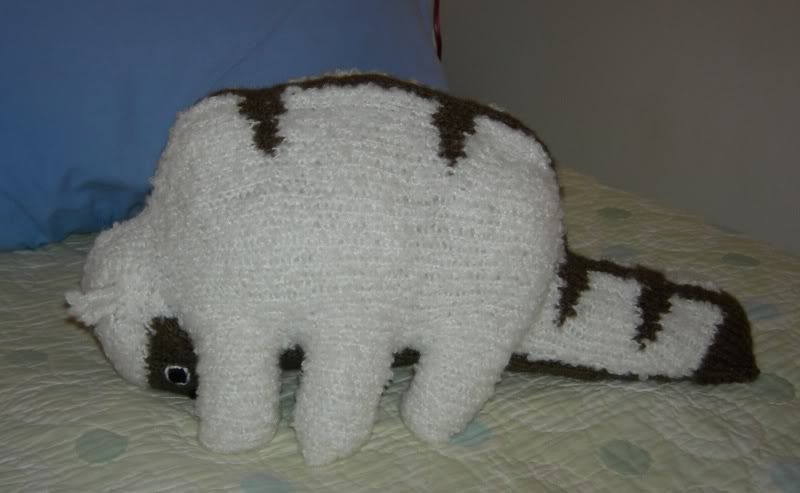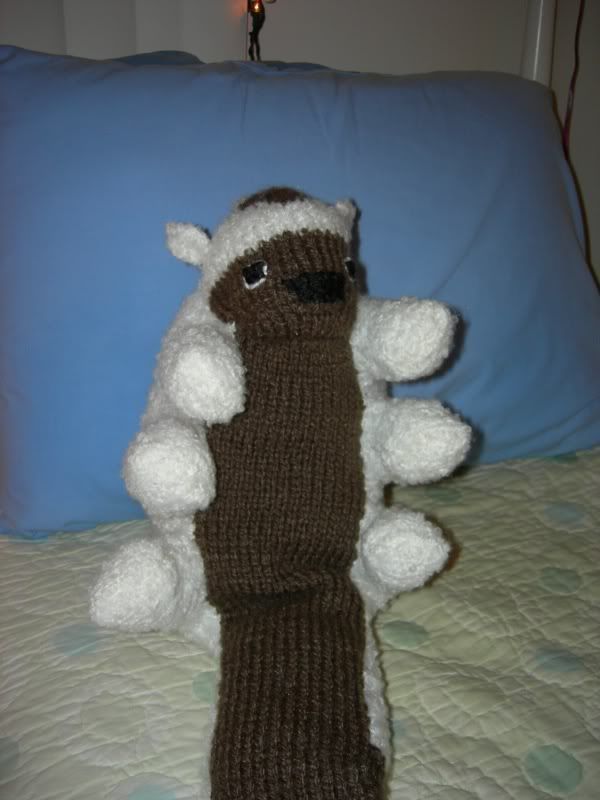 The head isn't quite right - I think I'd adjust the pattern before putting my notes up on ravelry, but I'm generally pleased.
Here
is what I was working from, also see my appropriate icon.
Right now it's hanging out with my Dalek. Next I think I want to try a cute Totoro pattern that I saw on ravelry. You know, in between finishing the cardigan I'm making for myself and the arm warmers that I'm making for my flatmate. (Also, I'm rather pleased with how that travel-fabric-pillow that I made a few years ago turned out; I think that was the second time I'd made piping).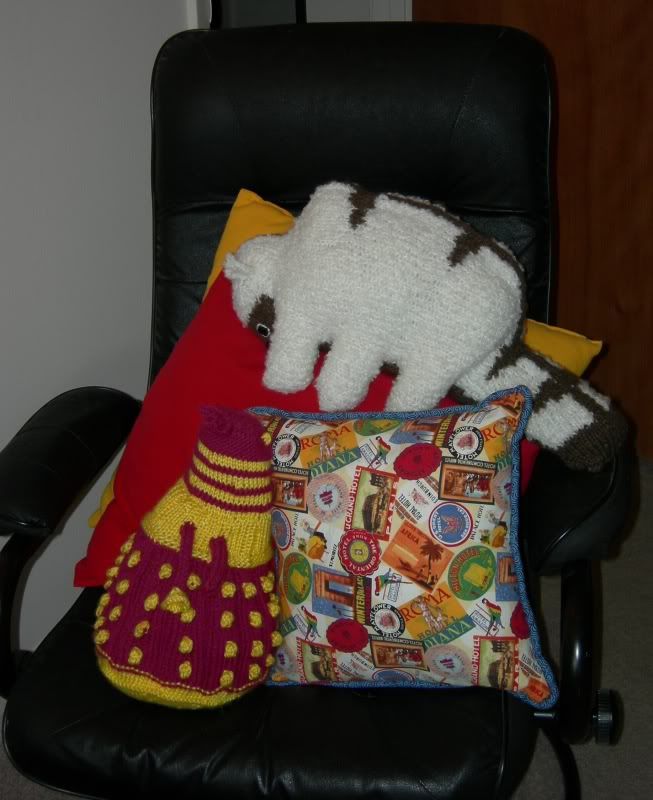 I got around to finishing one of my knitting projects last night, thus pictures. I think I'll have to take some better ones when it's not a dark and rainy day.


My father works with international students at the university. Naturally, most of his students are on facebook, so he decided he should be on it as well. I was looking at my dad's profile this evening, and thought, "you know, I bet he has more facebook friends than me. Let me check." He does. It makes me laugh, even though I totally expected this. He even has more than my brother, which I do consider impressive, since my brother is ridiculously social. (Shocker, he takes after my dad despite any protests he may make).

This all reminded me of conversations that I had with him a while ago when he was first getting set up.

Dad: People keep friending me! And then they post things on my wall! What am I supposed to do with this?

Dad: Just so you know, I have facebook set to my default page on the internet now, so I remember to look at it. Students keep writing on my wall! And I feel like I shouldn't ignore them!

I'm not sure if it's still his default, but I imagine that he likes hearing from his students who have gone back to their home countries or gotten jobs in different parts of the States.

(Also, a link on his wall led me to the web page that he set up for his students and American volunteers. I'm in one of the photos, despite my pointing out that I'm not one of his students. Hahaha!
Dad: Did you go see my website? Did you see your picture? It's a good picture of you!)
Both of my parents are on facebook, which is not an issue for me. Actually, a whole lot of my rather large (extended) family is on facebook.


So, prior to the actual trip, I had my weekly phone conversation with my parents and told them about this river trip. Initially, they thought it sounded great. Then, as always happens in discussions about Florida with my parents, my father brought up alligators. Would there be alligators in this river? Well, I wasn't sure, but thought that it was possible. By the end of the conversation, my father decided that this trip was a terrible idea.

I thought he was half-joking.

Turns out, he wasn't.

The day of the river trip, we left town at 8:15am, arrived at the river at 9, and started canoeing. It was a really nice day for it, very sunny, but also, of course, very hot. However, we left around 12:30 in order to avoid the daily afternoon storm, so it worked out well. The river is spring-fed, so it's pretty chilly, and very clear. We went upstream a bit to see one of the spring openings, and that's a bit disconcerting - you can see the bottom of the river for most of the time, when you're not in the midst of river weed patches. But over the springs, the bottom just drops away into a deep, dark hole; I think Steve said it goes down at least 80 feet. Christy, who I was paddling with, is afraid of heights, and I'm not to fond of them either (which is a bit odd, considering I routinely dream about flying, never about falling). She says that she knows that water is coming UP out of the hole, but she always feels like if she was in the water, she'd be pulled DOWN.

We stopped for a snack/very early lunch at an inlet about a mile down the river, where there were two platforms fixed up near the opening of another spring. I jumped in and bobbed around a bit over the area where I could see the bottom; the water was refreshing after the canoeing, but very cold!

For the actual canoeing, it was a lot of fun to look around, there were a bunch of assorted birds, lots of turtles (I love turtles), and you could see the fish under the canoes. Less pleasantly, you could also see EYES peering at you out of the river weeds near the banks. There were one or two baby alligators sunning themselves on logs. Christy and I estimated that one alligator was something like 5 feet long, judging by what we could see from its head. That's pretty small for an alligator, but it IS pretty much my height, and although I'm sure that the river is generally safe (apparently it's one of the best for canoeing in the country), seeing all the alligators at close range was rather uncomfortable all the same.

NOTE: there were no alligators in the inlet where we swam. At least, none that I could see. I stayed close to the canoes.

Anyway, it was fun, I wasn't eaten, and I called my dad afterwards to let him know that I was still alive. Then I called my mother, who was visiting some of my aunts and told her that I was still alive, which is when I found out that my father actually had been seriously afraid for my safety, regarding alligators.

So in conclusion: it was a pretty river, and a good trip, but I haven't really decided if I would do it again, or canoe on other rivers where alligators live.

I like swimming better than canoeing, and I like oceans and lakes better than rivers anyway.
I switched up my work schedule last week so that I could take Saturday off to go on a river canoeing trip with some of the people from the Sunday night Soup Group that I attend (soup, then book discussion, usually theology-related). Tangentially, the couple who organizes the group is about my parents' age, and have me over to their place for holidays when I'm in town instead of visiting my parents. I love them!